Staple items in an office game room
In modern corporations, a company's office isn't complete without a game room. Game rooms are a place where your employees can escape during the work day and in return it could inspire creativity.
However, don't decorate your game room with old things lying around the office. There are plenty of low-budget ways to deck out this fun room with things and activities that your employees will love. Here are some office game-room staples your company should get:
Bean bag chair
No matter what area of business your company is in, odds are employees are sitting at a desk quite a bit. This kind of sitting can put strain on their necks and backs. Throughout the work day, people are going to want to get up, walk around and perhaps lay in something a bit more comfortable. For those employees who like to change their venue during their breaks, a bean bag chair is the perfect spot for them to crash. Opt for the extra large ones so your employees can stretch their bodies out entirely and comfortably. For the people in the office who work on laptops, they could even plop down for a couple of minutes or an hour to do their work in a more relaxed setting.
The right board games
It may sound simple, but the right kind of board games could go a long way in a game room. You don't want to include games that take hours to complete, like Candyland or Monopoly, simply because your employees won't have enough time to play them. Instead, include some board-game staples like a deck of cards, a checkers board and a chess board. These are games that just about everyone knows how to play and could complete at a good pace so they can promptly get back to their work.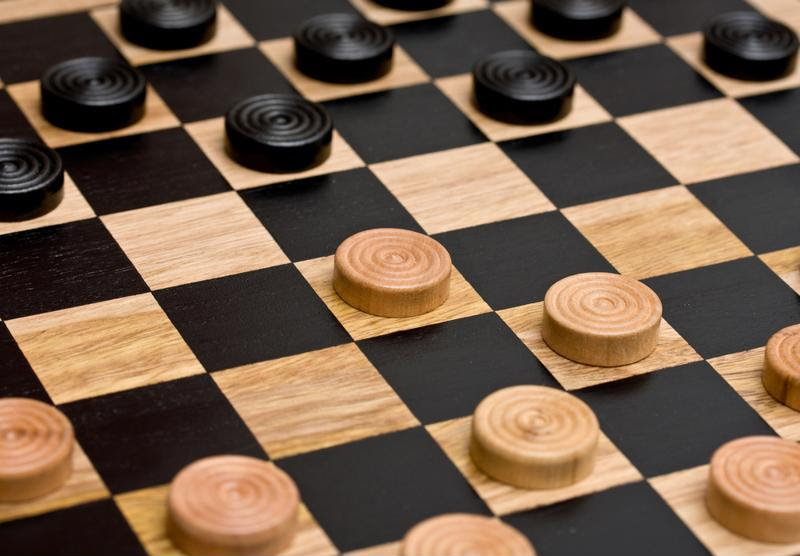 Checkers is a great game that just about everyone knows how to play.
Snacks
Sometimes all it takes is a little bit of food to motivate. If you're designing a game room for your office, snacks are essential. But not just any snacks. You're going to want a wide variety of treats to fit everyone's taste buds. First, it comes down to categories: salty and sweet. For salty, make sure to add various bags of chips or crackers. If you have a mini refrigerator, pop in several kinds of dips to accompany the chips, too. As for sweet treats, you can never go wrong with cookies and candy. However, be sure to include some snacks that are allergy friendly - aka nut-free. Snacks are great, but don't forget about drinks, either. Be sure to throw some energy or sports drinks in there to stay cool for anyone in the office who needs a quick pick-me-up.
Whiteboard
When it comes to creative environments, people want things that they can write on. Whiteboards are made to do just that. Be sure to include these in your game room for brainstorming purposes and for fun. An employee may want to grab a buddy and go into the room to bounce a few ideas off of each other. They can use the whiteboards to easily jot good ideas down and just as easily erase bad ones.
But the tasks don't have to be work related. If your employees need a break, a whiteboard is a great place t play games like hangman or tic-tac-toe. Make sure to stock the room with colored markers and erasers so that your employees have all the supplies they may need.
"Game rooms can make your employees feel appreciated."
Mini basketball hoop
Playing a quick pick-up game on a mini basketball hoop is a great way for your employees to relieve some office stress. They can stretch out their arms and legs by dunking a plush ball or shooting from the other side of the room. Attach this to the inside of the game-room door. That way, when it's closed, the rest of the office won't have to hear all of the noise.
If you have sport fanatics at your company, another thing to include in your game room is Writeyboard's power play whiteboard. This is a great way to conceive strategies and play around by drawing on a hockey board.

Regardless of what kind of business you run, game rooms are a great addition to any office that make your employees feel  appreciated.